Story has the power to heal. We believe it is now that we need to truly listen and validate the voices of the returning soldiers, so we can all begin the journey towards helping them find their way home.
Neutral Space for Expression
The belief that a neutral space allows our veterans to express their views and stories without fear of being judged or rejected.
Safe Space for Speaking their Truth
We offer a safe place for veterans to write their stories, and a venue for them to tell their stories, to speak their truths.
Support Diverse
Voices
We support their voices in all of their diversity because our veterans have something to say and they need to say it.
Leilani Squire, Founder and Director, was born at Tripler Army Hospital in Honolulu while her father, Grant R. Squire, was deployed on an aircraft carrier off the coast of Okinawa during the Korean War. She is a writer, creativity coach, and since 2010, has been working with veterans and their families to help them tell their stories. She is senior editor of Returning Soldiers Speak: An Anthology of Prose and Poetry by Soldiers and Veterans and is the newly appointed Poetry Editor for the online literary journal, Vietnam War Poetry, established by poet Paul Hellwig.
Gedda Illves, original Team Member, was born in Harbin, Manchuria, North China, of Russian parents. She lived in Shanghai during WWII and immigrated with her late husband via Brazil to Los Angeles in January of 1951 where their son was born.
William Galloway, Facebook Administrator, Army Alpha CO 603rd Battalion 2005-2007 and member of the Veterans Writing Group. He believes in equality and peace but understands that real freedoms have to be fought for. He uses his words to help with that battle. He believes that we, together, working towards one goal cannot be stopped…
In a review for the Vietnam Veterans of America Books in Review II, David Wilson writes about Galloway's prose, which is published in Returning Soldiers Speak: An Anthology of Prose and Poetry by Soldiers and Veterans: "'Dogface Soldier' by William Galloway is one of the best modern military stories I have read anywhere. This story is a model of good, clear, powerful writing—storytelling at its best. I would love to read a book written by Galloway. His story of a soldier with a bad attitude—an attitude so bad that his superiors would not ship him out to Iraq—really hit home."
Timothy James Grant, Logo Designer, United States Marine Corps, Alpha Battery, 1st Platoon, 10th Marine Regiment, 2nd Marine Division. He resides in Big Bear, California. He continues to operate his 'Building Design' business and is in the process of completing his undergraduate work with the ultimate goal of becoming a licensed Architect in the state of California. "Doing those things in life that foster peace, and creativity, will ultimately, inevitably bring you closer to God," is Tim's philosophy.
Dallas Dorsett Mathers, Graphic Designer, is the daughter of a WWII veteran, the widow of a cold war veteran and the sister of a Viet Nam War veteran. She has great respect for those who serve the country in the military, and is very happy to contribute her time and expertise to Returning Soldiers Speak.
The late Nita Donovan was a unique poet, fervent political activist, literary matriarch and staunch advocate of the Beyond Baroque Literary Center and the arts in Southern California. As a close friend of Lee Minh Sloca, Nita was among the founding poets who organized the first annual Returning Soldiers Speak that Lee had initiated and in which her generous spirit will always remain.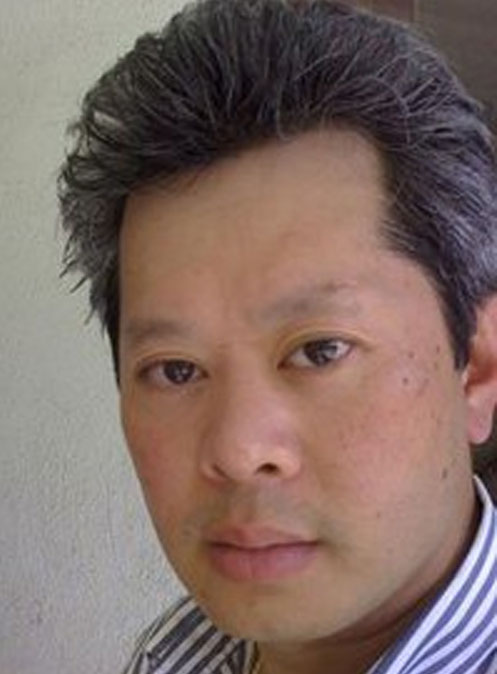 Lee Mingh Sloca
---
Lee Mingh Sloca was an extraordinary poet, graphic artist, tireless social and political activist, ambassador for literature and a great friend who touched countless lives. As a native of Vietnam, he escaped with his family just days before the fall of Saigon to the U.S. where, at age 10, English became a second language, heightening his sensitivity to the sound, meaning and rhythm of literary expression. After attending University of California at Santa Cruz, he worked for fourteen years with special needs children.
The Beyond Baroque literary center became a second home for Lee, where he also facilitated poetry workshops and organized special events; some that combined literature with politics. Lee's poetry was published in numerous journals and online magazines, the last of which was "Chronogram," edited by Pulitzer Prize winning poet and current poet laureate of the United States, Philip Levine. He also worked on a book based on familiar fairy tales with an Asian American perspective and loved working with underprivileged children. Returning Soldiers Speak, which Lee originally established as Returning Soldier before his untimely passing in June 2010, is a lasting tribute to his great legacy.
To walk a moment in their shoes is to share in their hopes and fears perhaps even to grasp from the comforts of our homes a better understanding of life itself.